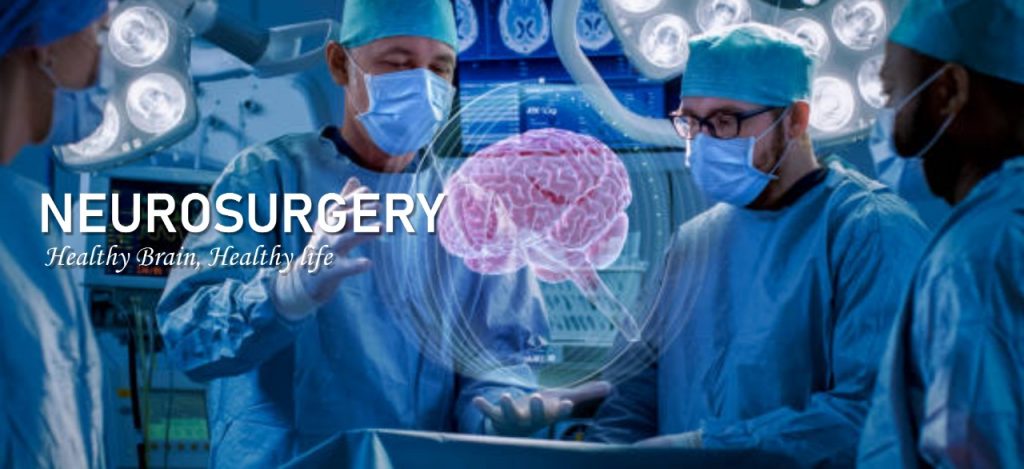 The department of Neurosurgery has been serving the masses since 1987.
The Department of Neurosurgery at CIIMS Hospital offers the highest standards of surgical skills, nursing care and equipment. At the Neurosurgery Department, we are at the disposal of our patients and always strive to deliver high quality healthcare. The neurosurgery department at CIIMS performs high end surgeries on regular basis with one of the heaviest workload of the specialty in center India.   Modern operation theatre complex with 03 OT  with recovery rooms attached
State of the art of equipments :-
Modern neurosurgery theatre equipment, high speed drills, Carl Zeiss operating Microscope, ultrasonic aspirator, trans cranial Doppler, fluoroscopy and stereotactic devices offer patients high standards of treatment for diseases and injuries of the Central and Peripheral Nervous System.
General Surgery
V.P. Shunt

Neurotrauma

Tumors Glimas

Meningioma, Schwannomas 

Cranial Facial reconstruction.

Decompressive Laminectomy

Laminectomy and Discectomy

Anterior cervical discectomy (corpectomy and fixation)
Apart from general cranial and spinal neurosurgical works following specialised procedures are being carried out:-
SPINE : -
Micro discectomy

Intradural and extradural spinal tumours

Intramedullary spinal tumours

C1-C2 fixation with C1 lateral mass and C2 pedicle screws (Magerl Technique)

Cervical Laminectomy and lateral mass fixation

Thoracic and lumbar pedicle screw fixation

Modified costotransversectomy and ventrolateral cord decompression

Foramen magnum decompression

Spinal AVMs

Spinal Dural AV fistulae

Trans odontoid screw placement and Fixation

Ozone therapy for prolapsed disc

Minimally invasive approaches for spinal tumours (Interlaminar approaches)

Brachial plexus surgery and peripheral nerve surgery cable grafting, neurotrzations, nerve transfer
CRANIAL – Special Procedures
Intraventricular tumours using minioraniotomy and channel retractors

Trans nasal microscopic excision of pituitary adenomas

Far lateral approach for premedullary lesions and PICA aneurysms

Sub temporal approaches for prepontine, mesial temporal lesions.

Keyhole approaches (Suprabrow Minicr aniotomy) for suprasellar lesions and anterior circulation aneurysms

Endoscopic third ventriculostomy

All other routine neurosurgical procedures
CEREBROVASCUALR
Aneurysms – Anterior and posterior circulation

AV Malformations

Mincrovascular decompression for trigeminal neuralgia and hernifascial spasms

Carotid endarterectomy
FUNCTIONAL
Epilepsy surgery – Amygdalohippocampectomy, corpus callosotomy, lesionectomy under ECoG guidance
Epilepsy Surgery Program
Over the past few years, an Epilepsy Surgery Program has been established in our institution, with a high success rate in surgical cases. At the Epilepsy Monitoring Unit, we admit patients for epilepsy syndromic classification, ruling out pseudoseizures and in drug resistant cases for presurgical evaluation. In presurgical evaluation we continuously investigate brain activity by long term Video-EEG monitoring and search for the specific areas of the brain where epileptic seizure activity is generated.

Sophisticated specialized tests are carried out, including brain MRI, f-MRI, MR spectroscopy, tractography, ictal Interictal PET, combined with neuropsychological examinations. All this collected data guides the Epileptologist and the Neurosurgeons in our program to select cases for surgery. We do resective (curative) and palliative surgeries in drug resistant epilepsy cases.

In the Operating Rooms, further assistance is provided by brain mapping and intraoperative electrocorticorticography applying electrodes over the exposed brain areas, thus making those operations safe and effective. Surgeries like corticoamygdalohippocampectomy, corpus callosotomy, extratemporal resection, lesionectomy are being carried out routinely at our institute.
The Institute is well equipped with various sophisticated instruments to perform all type of neurosurgeries skillfully. With these facilities the neurosurgical dept. of CIIMS has come at par with any private or public service hospital in the country. The Institute is now well equipped with the following neurosurgical equipments –
Drill Systems: Total 3 systems of  "Midas Rex Pneumatic drill; USA" & Two systems of "Manman drill system; India" Used for various Spinal & Cranial Surgeries.
Image Intensifier one "Siemen's Seromobile compact C-arm" & one "Alengers C–arm" used during various spinal instrumentation & Trans cranial pituitary surgery.
Microscopes: Total 4 in number; 2 leica OH6 + 1 Zeiss OPmi pentero fitted with all addon attachments including IR800 filter & yellow 560 nm filter that aids surgeon in vascular surgeries & Maximal safe resection of intracranial tumours. Also, they have attached video camera & CCTV facilities that can broadcast live surgeries at conference hall of CIIMS & can be used for educational & training purpose. One Ziess OPmi vario S8 microscope used in minor procedure & as backup scope.
CUSA (cavitron ultrasonic surgical aspirator) – Selector 4(UK) & SONOKA Soring (Germany) enables tumour removal from critical brain areas without inflicting injuries to vital structures.
Intra operative electrophysiological monitoring : SSEP for spinal cord and craniovertebral operations to ensure their safety. Digital EEG used for intra operative monitoring of cerebral functions in epilepsy surgery and for carotid endarterectomies.

Neurosign 100 : An advanced nerve stimulator from UK. Enables preservation of important nerves during surgery i.e. facial nerve in acoustic neuromas, Brachial plexus operations, posterior rhizotomies for cerebral palsy and other spastic disorders.
Cranial Neuroendoscopes: Aesculap endoscope system with Carl stor2 HD camera for various Endoscope & Endoscopic-assisted procedures.
Destandau spine Endoscopic system for various minimal invasive spine surgeries.
CRW FN for Sterotaxic Surgery including Functional neurosurgery.
Radio frequency lesion – for various  ablative procedure as a part of functional neurosurgery
Trans glabellar approach exci.of maningioma
Trans Sphenoidal PIT surg


USG guided Tumour Resection